Steve Jobs was often mocked for his extremely expected signature look and fashion taste for a man who revolutionized technology while making it look good at the same time.  His black turtleneck and jeans were about as synonymous to him as the Apple logo itself.  It's hard to imagine that such a visionary wasn't exactly inspired to wear something a bit more interesting.  Yet, he wasn't the only creative genius to have a go-to signature look without much variation.  Some of the most influential fashion designers of our time are also known for very expected styles that few would consider  to be all that interesting. Let's take a look at some of them.
Has anyone ever seen Michael Kors in anything other than a black t-shirt, black blazer, jeans and a pair of aviator sunglasses?  Kors is a CFDA Lifetime Achievement Award winner, yet when it comes to his own style he's about as one note as it gets.
 Coveted by many, Vera Wang's highly creative, thought provoking gowns revolutionized the bridal industry.  Yet, I can't really recall a time where she wasn't wearing black, in particular a v-neck.
When I think of Carolina Herrera I automatically think of a crisp white button down shirt.  Regardless of what she is wearing on the bottom, it's usually with this look on top.
It's rare that we don't see Tom Ford wearing a black blazer, daringly low buttoned white shirt with few sprigs of sexy chest hair peeking out of the top.  This, the man who changed the face of Gucci and who directed one of the most visually stunning films of 2009.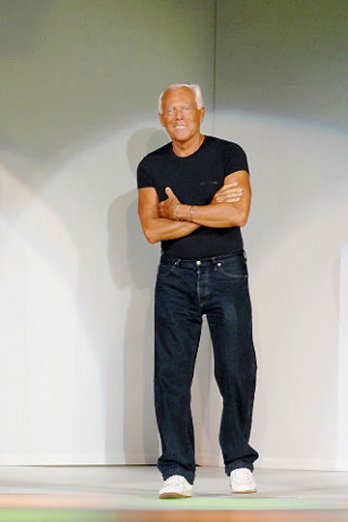 Giorgio Armani is considered one of the top 10 fashion designers of the 21st century, yet he is often seen wearing a black t-shirt and jeans.
When have you not seen the iconic Valentino is anything other than a clean, crisp suit and a tie?  I wonder if he owns a pair of sweatpants?
This begs the question, why are the worlds most creative people often lackluster with their own look?  One could argue that Steve Jobs was more nerd than fashion icon, however, but he also did have a superior taste level when it came to design.
What are your thoughts?
Oh, and I should add…I don't care if Steve Jobs wore a toilet seat on his head and a banana skirt around his waist.  The man was a genius, he revolutionized the world and remains as one of my heroes.  Rest in Peace, and thank you for making that ding in the universe.